WON

·

DER
(wŭn′dər)
the feeling evoked by something surprising, inspiring or extraordinary.
The Wonderer is a lifestyle brand, a physical campus, and a one-of-a kind membership experience. Most importantly, it's a fun-loving community working towards a more meaningful normal, while focusing on balance between social connection, professional life, and personal wellness.
We are a blend of dreamers, creators, and other net positive contributors seeking connection over attention. 
We approach life with a sense of wonder and curiosity, while our thirst for inspiration and adventure leads us down the roads less traveled. 
We carry a passion for creativity and positivity, and we prioritize things like change and growth over comfort and stability. 
Above all, we are forward-thinking and committed to our pursuit of building a better future so we can pursue our dreams and empower those around us to do the same. 
Designed as a "second space," The Wonderer's near 2.0-acre campus in Charleston, SC has been built to help members consolidate a majority of their daily needs in one space. From indoor and outdoor areas dedicated to work, social, fitness or wellness, to a variety of full-service culinary outlets and more, there is hardly a reason to ever leave.
Click on different parts of the campus to learn more
Dedicated Concierge Services
Active Social Events Calendar
Wellness Cafe & Smoothie Bar
Full-Service Restaurant
Rooftop Sports Bar
Jr Olympic Swimming Pool
Private Group Cabanas
Free On-Site Parking
Member Locker Rooms
Lap Swimming
Indoor Gym / Fitness Center
Yoga & Electric Classes
HIIT + Personal Training
Strength & Conditioning
Guided Meditations
Spa Therapies
Sensory Deprivation
Life & Health Coaching
Private & Shared Work Spaces
Rentable Conference Rooms
Rentable Offices
ROOM Pods (for Quiet Calls)
Print/Scanner Access
High-Speed WIFI
Networking Events
Speaker Presentations
Educational Offerings
Single Membership

Annual Pay Option- $275/month
Monthly Pay Option- $325/month
Dual Membership
Annual Pay Option- $425/month
Monthly Pay Option- $500/month
*No term commitment or F&B minimums
*Ask us about our 30-day money back guarantee
*A one-time fully refundable initiation fee may apply
"The Wonderer started out as a concept and has truly become my home away from home in its fruition. I frequent the club to work with a view, to socialize, or to get a workout in outside. Removed from the hustle & bustle of downtown Charleston, the Wonderer is a great escape for locals."
- Ryan
"If you are lucky enough to experience The Wonder you know what I'm talking about. This place is unlike anything in Charleston and a true oasis in the city. If your looking for a beautiful place explore health and wellness this will soon become your home away from home. I absolutely love their yoga offerings and regular member events. From sound baths to pool side HIT classes The Wonder has something for everyone and I can honestly say I leave a better person after every visit."
- Emily
"Amazing and unique concept that was missing from Charleston. The events I have attended have been well put together from the pool parties to the formal events. Staff is very friendly and food/drinks are great!"
- Joe
"My wife and I have stayed at some of the nicest resorts and hotels both in the Charleston area and across the US. The Wonderer equals any of those places. The pool, ambiance, and - most importantly - the service are all exceptional. You are not just a room number at the Wonderer. The staff are all incredibly friendly and warm. What a fantastic job they have done!"
- Michael
"Visiting Charleston for work and visited as a guest of a member. Tested out one of their fitness classes - it was excellent. The coaching was really on point and the small amenities like the cool towels and cucumber water made it all that much better. Grabbed a coffee and sandwich at the pool bar after, that was equally good. The staff was really cordial. Overall, a very pleasant experience and I plan to join when the 2nd region of my business gain more traction. Keep up the good work y'all!"
- Brian
"This place is amazing. An oasis in Charleston. The drinks, food and atmosphere are next level. I have loved every event I have attended from comedy shows to music acts they do it right! I wish I would have gone before I booked my wedding venue because it would be perfect for the ultimate party!"
– Rachel
"Have been able to enjoy most of the amenities offered at the Wonderer, and have nothing but positive feedback. I've utilized the work space and loved it. I also have attended several shows there. The venue is incredible, and their ownership is bringing in acts that I love but have never seen booked in Charleston. Kudos to the Wonderer for creating an oasis in the middle of downtown Charleston!"
- Peter
"This place is amazing. An oasis in Charleston. The drinks, food and atmosphere are next level. I have loved every event I have attended from comedy shows to music acts they do it right! I wish I would have gone before I booked my wedding venue because it would be perfect for the ultimate party!"
– Rachel
"Current member here and have to say they have done a decent job on making this place a nice oasis away from downtown. Will definitely enjoy to see the plants grow a little taller as the years come as well. Chef does a good job with the food. I think the burger is just as good, if not better than Felix. Pool is really nice and every so often they have killer events on the weekends."
- Nick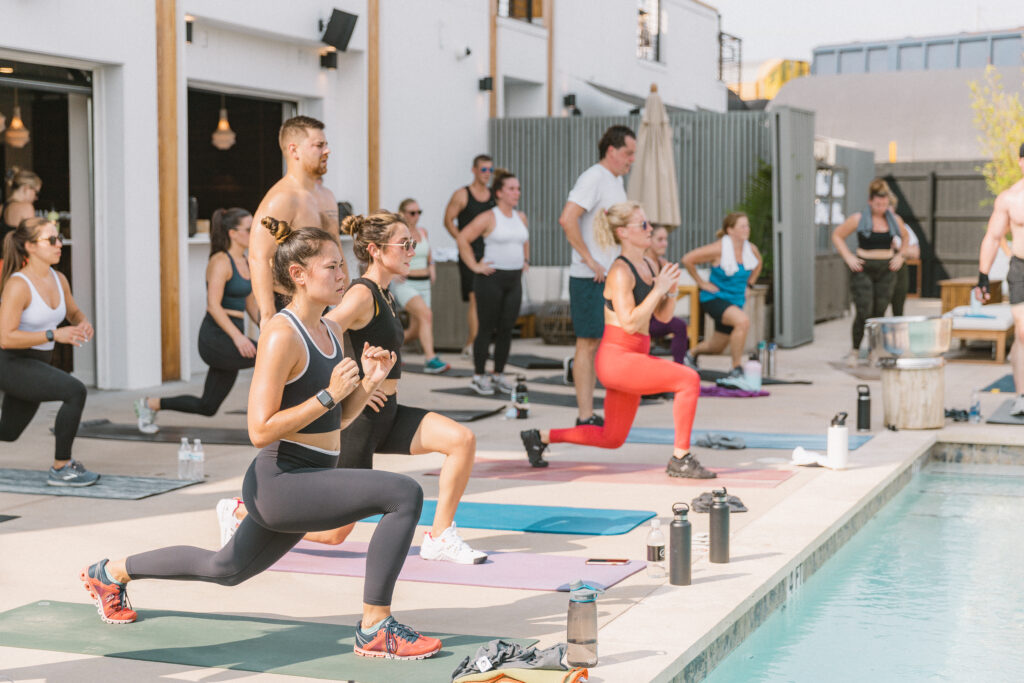 Since movement plays a vital role in almost everything we do, membership includes access to "The Grounds," our indoor fitness & wellness facility that offers a gym and studio, as well as an amazing team of certified trainers & instructors. 
Daily class offerings range from HITT, strength & conditioning and personal training to yoga, barre, and electric, (mat pilates + barre), while monthly fitness events comprise a variety of all. In summary, we have everything you need to get your body moving like never before.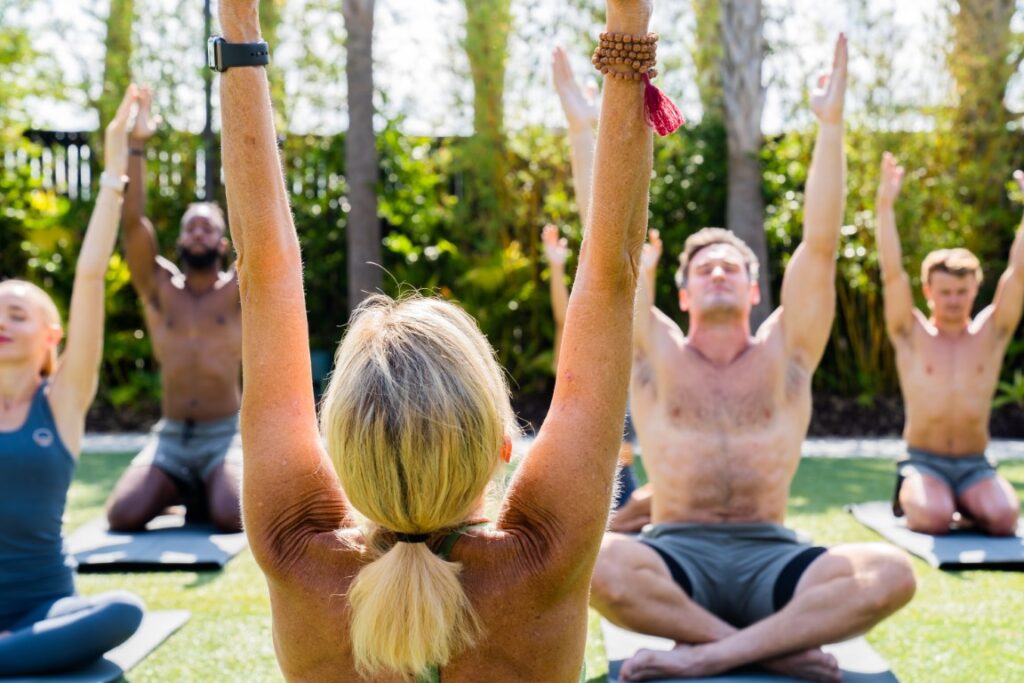 Relax, recharge and renew with us through a wide range of mind-body programming and practices. Our holistic offerings, such as guided meditations, circle talks (in the NEST), and full moon ceremonies are intended to help optimize your mental, spiritual and emotional health & well-being. 
For those looking to heal or hit the reset button, visit our Recovery Room at "The Grounds," to reduce stress levels, improve sleep quality and overall cognitive function through sensory deprivation options and a variety of Eastern spa therapies.
To gather is to connect, socialize, and foster meaningful relationships. From comedy nights and live music experiences to culinary tastings and personal development workshops, our gatherings are incredibly diverse and designed to educate and inspire.
Members also have access to multiple onsite culinary options for breakfast, lunch and dinner. Furthermore, because we believe all food should be delicious and nutritious, our menu's range from international fusion and farm-to-table seasonal favorites to various blends of elixirs, nootropics and detox remedies for health & wellness benefits. (VIEW MENUS)
To grow is to learn, change, and expand our knowledge – not just work. This includes learning how to become more productive and efficient, so we can achieve a better balance and improved sense of self.  
Whether you're flying solo or conducting your business with a team, our campus has everything most working professionals need. From co-working spaces and noise-free call booths to conference rooms and even desks, our goal is simple: help you feel comfortable, creative and connected. After all, we believe where you work should be much more than just a place to get things done.  
"The fastest way to change yourself is to hang out with people who already are the way you want to be."
– Reid Hoffman
"Man can alter his life by altering his thinking."
- William James
"Life begins at the end of your comfort zone."
– Neale Donald Walsch
"We can't solve problems by using the same kind of thinking we used when we created them."
– Albert Einstein
"Education is the most powerful weapon you can use to change the world."
– Nelson Mandela
"Don't ask what the world needs. Ask what makes you come alive and go do it. Because what the world needs is more people who have come alive."
- Howard Thurman
"If you look at history, innovation doesn't come just from giving people incentives; it comes from creating environments where their ideas can connect."
– Steven Johnson
"We find ourselves by helping others."
- Bobby Ping
"The difference between what we do and what we are capable of doing would suffice to solve most of the world's problems."
– Mahatma Gandhi
"We are what we repeatedly do as excellence is not an act, but a habit."
- Aristotle
"We make a living by what we get. We make a life by what we give."
- Sir Winston Churchill
"Vulnerability is the birthplace of innovation, creativity and change."
- Brene Brown
"Life is not a problem to be solved, but a reality to be experienced."
- Soren Kierkegaard
"I like working with people. I think change can only come through collaboration."
- Alain de Botton